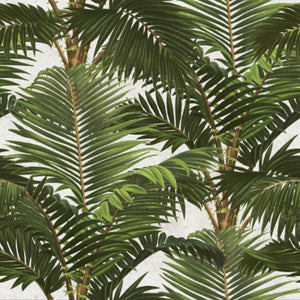 The Jardin Tropical Wallpaper is amongst the marvellous wallpapers created by Transylvanian design and manufacturing company MINDTHEGAP 

Magnificent imagery has been selected in order to create one of the most amazing wallpaper collections. Ancient symbols, vintage patents and drawings, famous mathematical formulas or iconic photography are the ingredients of the extraordinary MINDTHEGAP collection of wallpapers. These wallpapers are suitable for any room and interior look.
MINDTHEGAP is a young brand from Romania which designs and manufactures premium home accessories, especially wallpapers which combine old photography and antique illustrations with modern graphics and contemporary patterns. All MINDTHEGAP wallpapers are designed and manufactured in-house using only premium natural substrates such as linen, cotton and reclaimed wood. MINDTHEGAP prints only with eco-friendly inks and all of their products are finished by hand using artisan traditional methods.
Dimensions of each Roll: W 52 x H 300 cm
Coverage Size: 4.65 square meters with a box of wallpaper (3 rolls)
Packing: 3 rolls in a box
Design Report: 52 x 52 cm
Design Repetition: the pattern repeat is straight match for each design
Material: made on new generation non-woven substrate. Printed with eco-friendly inks
Installation: MINDTHEGAP wallpaper are easy to install on any wall type. When hanging the wallpaper, apply the ready-mix adhesive paste on the wall and hang the strips one by one by butting the edges together. The adhesive allows for a while moving the wallpaper strips, so that the wallpaper pattern continues correctly from one strip to another
Care: washable. To wipe it off, please use a damp sponge. Always wipe off the wallpaper vertically. Never apply any kind of taping mask on the surface of the wallpaper.
Environmentally friendly: The latex inks used in all the prints are certified to comply with the Nordic Swan Environmental Standard. Inks used are completely odourless, with a very high durability, all wastes being responsibly disposed of. All fibres used to produce the wall coverings originate from sustainable managed forests
Country: designed and made in Transylvania
Samples of this wallpaper are available to order for £

3.75

per sample with free delivery. Please email us with details of which samples you require
This wallpaper is printed to order

Please note this is a drop-ship item so please get in touch prior to ordering for lead times.