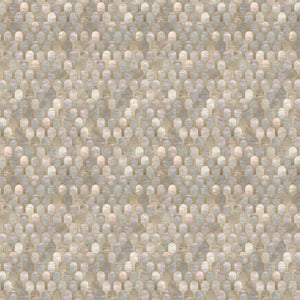 Bethan Gray has taken inspiration from the traditional forms of Oman for her Nizwa Wallpaper. The design features the technique of marquetry,which was used as far back as the 16th century. It reflects the rounded architectural composition of the forts' castellations, whilst the detailed mother of pearl patterning creates a stunning iridescence. The variation in shade resembles the effect of the sun on the different elevations of the forts. Heavy- duty wallpaper with paper top- layer and non-woven backing. No wallpapering table necessary, glue is applied to wall.
The Nizwa Wallpaper is amongst the latest wallpapers created by Bethan Gray in collaboration with NLXL. Nizwa is available in 6 different marvellous colours. 
This wallpaper can be used to spectacular effect especially as the pattern has no repeat: great for feature walls in both residential and public spaces.
Award-winning Welsh designer, based in London, Bethan Gray combines a passion for luxurious natural materials - leather, marble and solid wood - with an extensive knowledge of craftsmanship and cutting-edge manufacturing technologies. Establishing her eponymous studio in 2008, commercially successful design collaborations are at the heart of the Bethan Gray Design business.
NLXL LAB is an innovative wallpaper company founded in the Netherlands in 2010 by Rick and Esther Vintage.  They are best known for the Scrapwood Wallpaper collection, brainchild of designer Piet Hein Eek.  The pattern has no repeat, which means all the images on the 10 m roll are different; a unique feature which has since become the defining hallmark of NLXL wallpaper.  The company has since then launched hugely successful collections with Piet Hein Eek, Studio Job, Paola Navone and other leading designers, with a focus on clever, unexpected designs.
Dimensions per full roll: L 1000 x W 48.7 cm (coverage of 4.9 square metres)
Weight: 153 g / sqm
Material: heavy duty wallpaper with paper top layer and non-woven wallpaper backing consisting of cellulose and textile fibres strengthened by a binding agent
Free of PVC, solvents and formaldehyde
Super high-resolution printing with no repeat
Colourfast and washable with soft cloth
Can conceal cracks
Very easy application - no wallpapering table necessary, as it is the wall that is pasted with glue
Country: made in the Netherlands
Samples of this wallpaper are available to order for £

3.75

per sample with free delivery. Please email us with details of which samples you require
This wallpaper is printed to order
Delivery: 1-2 weeks