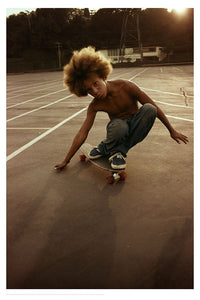 Photographer Hugh Holland captured the beauty and grace of the burgeoning skateboarding scene in Southern California during the 1970's. Holland documented his friends and locals who were thrill seeking youth in pursuit of a perfect ride. From the hills of Laurel Canyon to emptied drought-stricken pools and the sidewalks of Venice, Holland's work is an important time capsule of this youth driven movement. "Solo" evokes the laid back sun-drenched utopia and charm of this era and the important beginnings of the skateboarding subculture.
"Solo" Kenter Canyon Elementary October, 1976
by Hugh Holland.
Printed on acid free paper with fade resistant ink

Measurements: 24.0 x 36.0 inches 

Made In USA.