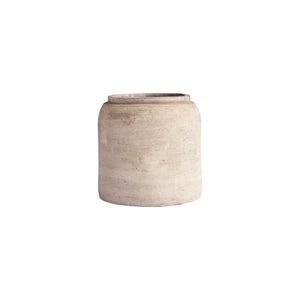 Beautiful jar in clay in the new colour sand with detailed surface that perfectly suits both the bright summer colours and autumn dark shades. This jar has a beautiful simple shade and is perfect for decorative branches or flowers. These vases in clay are handmade therefore, they are unique and you cannot get one which is 100% like each other. 
measurements: dia 25 x H25 cm 
colour: sand
material: clay
care:Not 100% waterproof, and we therefore recommend that the bottom is lined with a small pot or glass vase, or to use a saucer.